What is
covered during the AWARD mid-year meeting?
AWARD´s annual meeting which took place online is an opportunity for the consortium to reunite and review challenges and what has been achieved so far. The meeting was opened by Easy Mile, project coordinators and it lasted three days. Approximately 50 attendees took part in discussions and workshops. 
The 1ST DAY agenda – AWARD´s annual meeting:
General presentation of the 3-day meeting

​
A reminder of the year​
Participation of Guido Di Pasquale, Managing Director of PAVE Europe (Partners for Automated Vehicle Education 

Europe)

​
Review Meeting Highlights​
Management Presentation​

Start of the Work Packages progress

presentation
The 2ND DAY agenda – AWARD´s annual meeting:​
This morning session (9 to 13:00):

​
AIT Use case presentation​
Vision paper workshop​​

Dematic use case presentation & WP6

workshop and discussions
The 3RD DAY agenda – AWARD´S annual meeting:
Project Risks

​

Global risk matrix

​

Annual meeting synthesis

​

AWARD objectives VS actual progress

​

Status per Work Package

​

Project management processes

​

Deliverable status

​
Planning / Milestones status 
Dr. Loha Hashimy, Innovation Manager at Enide: ¨The use of Autonomous Vehicles (AVs) in mixed traffic seems as one of those dreams that will take time to come true. Though we are taking the first steps toward adopting Heavy Duty AVs in logistics under harsh weather conditions and in mixed traffic in one of the biggest flagship projects funded by the European Commission H2020 funding scheme, AWARD-H2020. As the leader of the innovation management task, ENIDE will ensure that the project ambition is met and the objectives are achieved. Also, as a dissemination, communication and exploitation Work Package leader, we are putting a lot of effort into taking the project results to the market. A special thanks go to the other 28 project partners including the project coordinator EasyMile who are pawing the way towards a more advanced Europe where mobility will be more sustainable and autonomous.
The first day of the second annual meeting of AWARD-H2020 comes to an end, but we continue our discussions on the project progress in the coming two days.¨
Emphasis was put on the use cases:
Autonomous driving demonstrations in real logistics operations: One down and three more to go! The team will put a stronger focus on the hub-to and the port use cases for which the planning will start in winter 2023 to be delivered starting spring- fall 2023.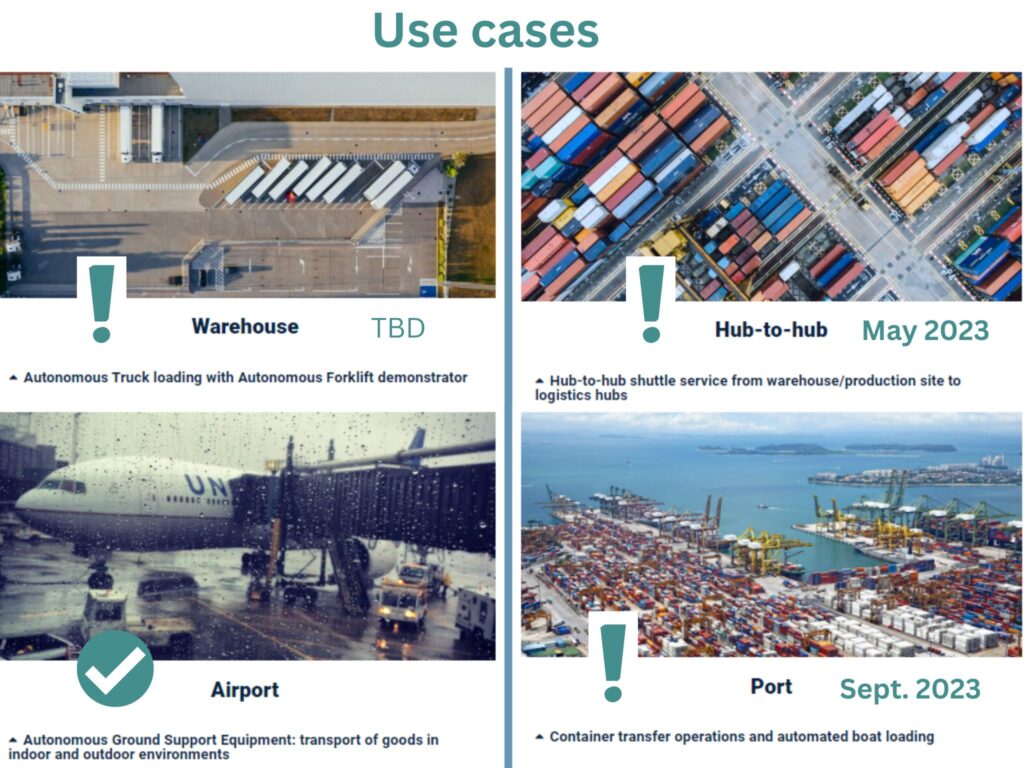 During the AWARD´s annual meeting the consortium was able to receive in-depth explanation of what took place and what is yet to come from the task leaders and participants:
Project monitoring and data collection: DFDS (leader); Participants: VTT, DigiTrans, Dematic, Avinor, FRACS, Conti, LCM
Objectives:

This task aims at improving the methodology to perform harmonized project monitoring and data collection for all the demonstrators.

Progress toward the objectives:

Harmonized project monitoring and data collection submitted

Deviations identified: None

Next year highlights:

Test plans to be written by all demonstrators
Autonomous Truck loading with Autonomous Forklift demonstrator: Dematic (leader); Participants: Easymile, DFDS, Applied Autonomy, Rotax, Digitrans, Conti
Achievements

:

Change of project manager,

Safety analysis ongoing,

Pick up zone assessed,

Safety analysis Charging

Ongoing and next steps:

Demonstrator modification,

Presentation of use case changes

soon
Hub-to-hub autonomous logistics:
Achievements

:

Adapted implementation plan (3 phases for 

public road driving with safety driver, no-op with 

teleoperation at 

Digitrans

proving ground);

Test permission filed to Austrian authorities;

Roadside weather station installed & up running

Next: Demonstartions start in spring 2023!